Esteemed customer,
Our economies are progressively coming out of the worst pandemic situation faced in modern times, and if we are not back to a comfortable sanitary situation, our living conditions are noticeably improving.
The Economy, as it usually does after a long and difficult crisis, is bouncing back. GDPs all over the world are improving, as are Industrial Outputs.
The impact on various input costs for the manufacturing sector is also brutal: raw material prices have soared, shortages of materials and components are appearing across the whole supply chain.
At the same time, the natural calamities, linked to climate change, are prompting rapid actions to curb carbon emissions.
These conditions result in a perfect storm as far as energy prices are concerned: electricity and gas prices have surged and seem to be fixing a new paradigm where low energy costs are a thing of the past.
Here are some illustrations of this rapid evolution:
On electricity prices: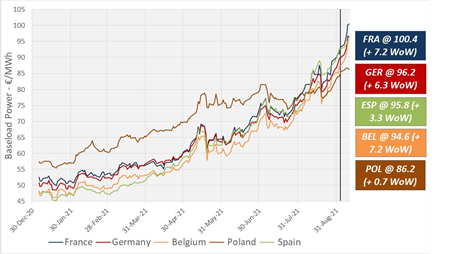 And gas prices:

These levels have become so high that is now impossible for Industeel to absorb these costs any longer.
So, in order to maintain the profitability necessary to ensure a sustainable growth, Industeel is impacting energy cost increase in its pricing in 2 ways:
Firm prices already include this energy cost increase since June 2021.
Alloy surcharges for orders placed with variable prices now include an Energy component for orders delivered from September 2021 onwards. The alloy surcharge tables, property of Industeel found on our website (Alloy surcharges – Industeel (arcelormittal.com )
We trust the market will react positively to this.
For any clarification, please contact your local Industeel representative.
Truly yours,
Yves Boudart – Chief Marketing Officer Industeel